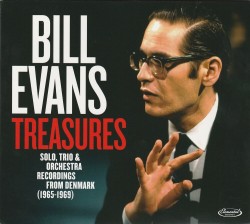 Treasures
Bill Evans
Elemental Music 5990444 (elemental-music.com)
Blue Room
Chet Baker
Jazz Detective DDJD-008 (deepdigsmusic.com)
Bill Evans and Chet Baker had much in common. Both born in 1929, they were great lyric talents. Both achieved tremendous acclaim, and both suffered the ravages of heroin addiction, contributing to Evans' death in 1981, Baker's in 1988. Baker had known stardom and decline before Evans emerged in 1958, and they were very different musicians, Evans a meticulous student of complex harmony, Baker a "natural" who could travel fluently through chord progressions without naming them. These boxsets, available on CD or LP, present aspects of their individual European careers, Evans a visitor, Baker a long-time resident.
Treasures packs a few facets of Evans' career into visits to Denmark. It initially presents him in 1965 in his favoured trio format, a conversational form here completed by the necessarily virtuosic bassist Niels-Henning Ørsted Pedersen and either Alan Dawson or Alex Riel on drums. The material ranges from standards to Evans' own compositions, Time Remembered and Waltz for Debby. The rest of the disc, from 1969, has the trio with bassist Eddie Gomez and drummer Marty Morell joined by the combined forces of the Royal Danish Symphony Orchestra and the Danish Radio Big Band in a suite of mostly Evans' compositions conducted by arranger/trumpeter Palle Mikkelborg, who manages the massed ensemble with apt taste.
There follows a 1965 solo set that ranges from a moody 'Round Midnight to a rhapsodic My Funny Valentine, then continues with trio sets from 1966, with Gomez and Riel, and 1969, with Gomez and Morell. Evans' could return repeatedly to the same material, trusting to his bandmates and his own invention to reignite the composition in hand. Here Miles Davis' exotic Nardis appears in each trio's playlist, explored at contrasting lengths, and there's a joyous account of Johnny Mandel's Emily, another favourite Evans vehicle.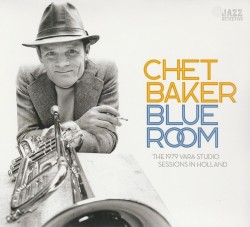 Last year's release of Chet Baker's Live in Paris: The Radio France Recordings 1983 -1984 (Elemental) presented some of Baker's finest performances, expansive, consummately lyrical and enlivened by intense support. On Blue Room's two 1979 sessions one gets both very good Baker and some lesser work. Mercifully, the first session contributes 70 minutes of music, the second only 25. Baker travelled to Hilversum, The Netherlands, in April with mostly American partners. Pianist Phil Markowitz, a regular, is empathetic, embellishing Baker's brilliant minimalism, evident on Wayne Shorter's Beautiful Black Eyes. Drummer Charles Rice and Belgian bassist Jean-Louis Rassinfosse contribute firm underpinnings as well, for both Baker's hesitant but engaged vocals and his warmly muffled trumpet balladry. The brief session from November had Baker driving a long distance, forgetting his sheet music and playing with a local band he had just met. The results are sometimes positive, but the relaxed communication that Baker enjoyed with the previous group is absent, and his vocals sound tired. That April quartet session, however, shows Baker in excellent form.