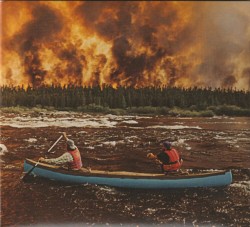 Cory Smythe – Smoke Gets In Your Eyes
Sofia Jernberg; Large Ensemble; Cory Smythe
Pyroclastic Records PR 23 (store.pyroclasticrecords.com)
Composer and pianist Cory Smythe has worked with several of contemporary music's most creative figures, among them Anthony Braxton, Tyshawn Sorey and Nate Wooley, but it would be difficult to name a more inventive conceptualist, engaging historical musical and social forms to generate challenging contemporary dialogues, reinventing the jazz practice of creative variations on standard repertoire. His Circulate Susanna investigated Stephen Foster's famous genocidal ditty (see the original lyric of 1848); Accelerate Every Voice, was a choral piece about rising water levels. Now Smoke Gets in Your Eyes approaches Jerome Kern and Otto Harbach's ancient pop tune to address a world on fire. Smythe's probing, highly creative liner booklet is illustrated with images of the song's celebrated performers, including Louis Armstrong, Judy Garland, Fred Astaire and Bryan Ferry.
The work comes in two distinct parts. The first four pieces, originally developed with the Trondheim Jazz Orchestra, are performed by a stellar 11-member ensemble (saxophonist Ingrid Laubrock and cellist Tomeka Reid are prominent), playing four pieces. Liquiform 1 comes as close as might be possible to creating liquid sound, while Combustion 1 has trumpeter Peter Evans invoking fire with blistering, incendiary flurries. Combustion 2 has singer Sofia Jernberg reducing the original song to snippets. The second and longer part consists of Smythe's seven solo explorations of the song, playing a piano with computer augmentation altering pitch and timbre. The original song is often wholly fragmented, appearing in glimpses through Smythe's abstract, shifting improvisations as if etched in smoked glass.