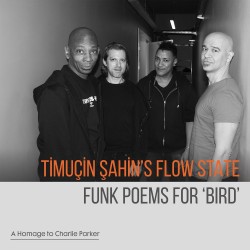 Funk Poems for "Bird"
Timuçin Şahin's Flow State
Panoramic Recordings pan27 (newfocusrecordings.com/catalogue/timucin-sahins-flow-state-funk-poems-for-bird)
Timuçin Şahin is a Turkish guitarist currently teaching at New York University; his Funk Poems for Bird is a series of pieces dedicated to the musical spirit of Charlie Parker. This in itself is not unusual, but in 2022, forays into jazz history can grow increasingly exploratory. This is one of them. Şahin's Flow State, meanwhile, is an ideal complement. Bassist Reggie Washington and drummer Sean Rickman are a masterful rhythm section adept at numerous jazz sub-genres. Here they provide coolly abstracted versions of funk grooves, while pianist Cory Smythe adds his own edgy vision.
Şahin pushes Parker's thematic material further than most, both backwards into its modernist classical associations (Schoenberg and Varèse) and forward into the work of Parker's most brilliant successor, John Coltrane. Şahin's vision is built into his instrument and his approach. Here he plays a double-neck guitar, one a conventional fretted six-string, the other a fretless seven-string, the latter facilitating sudden shifts into quarter tones. Further, Şahin rarely plays anything resembling a conventional line, instead favouring swarms of notes, polyvocal lines that coil and slither amongst themselves, whether swimming amidst Washington and Rickman's cool backbeats or matching Smythe's explosive playing, here in a voice somewhere between Bud Powell and Cecil Taylor.
The time-travelling Bird Watchers has it all, from its roots in Parker's Ornithology to Şahin's back-and-forth movement between fretted and fretless necks to Smythe's technologically altered piano pitch, knit together with a slightly wobbly funk beat.