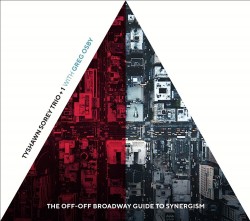 The Off-Off Broadway Guide to Synergism
Tyshawn Sorey Trio +1 with Greg Osby
Pi Recordings P196 (pirecordings.com)
On his preceding recording, Mesmerism, drummer/ composer Tyshawn Sorey turned from his more esoteric composing practice to stress jazz performance traditions, a conventional instrumental grouping exploring a standard, but expandable, repertoire. Here that notion has grown from a single studio session and a piano trio to nearly four hours with brilliant saxophonist Greg Osby joining Sorey, pianist Andrew Diehl (the star of Mesmerism) and bassist Russell Hall, recorded over three nights at New York's Jazz Gallery.
It's a mode that's rarely heard on record (where composer royalties are an issue), though it's the lifeblood of the jazz club, a concentrated dialogue around a common repertoire, though here broader than usual. Its thematic bases include American Songbook titles (Cole Porter's Night and Day, Van Heusen and Burke's It Could Happen to You) to earlier jazz forms (Fats Waller's Jitterbug Waltz, Billy Strayhorn's Chelsea Bridge) to bop and free jazz (Thelonious Monk's Ask Me Now to Andrew Hill's Ashes and Ornette Coleman's Mob Job), several heard in different forms from different nights.
The performances brim with life. Osby is central here, whether broadly lyrical or pressing toward expressionist intensity, generating continuous lines that accommodate themselves to the varied material but have a life of their own. This celebrates the core jazz experience, a small group exploring the melodic and harmonic possibilities, the expressive resonances and collective meanings of a song at length (20 minutes in the case of Three Little Words). It's a contemporary embodiment of a great tradition.