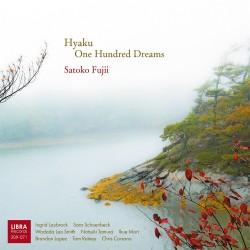 Hyaku, One Hundred Dreams
Satoko Fujii
Libra Records 209-071 (librarecords.com)
Hyaku, One Hundred Dreams is pianist/composer Satoko Fujii's 100th CD as leader and a fitting celebration of her remarkable career, launched in 1996 with duets with Paul Bley. Among images of her first 99 works, South Wind, the fourth, leaps out, its title track figuring significantly for me during 20 years of teaching jazz history. Based on an Okinawan mode, it combines dramatic energy and pacific beauty, embodying what jazz has increasingly become, an inclusivist art alive to local dialects and the possibility of global values.
The contrasts, too, are dramatic, reflecting how much has changed. South Wind's big band was conventional, with sections of trumpets, trombones, reeds and rhythm instruments, with Fujii the sole woman among 15 musicians; Hyaku is a nonet with individual emphases on both instruments and musicians, its ensemble almost evenly split between women and men. Further, Hyaku's five-part suite blurs composed and improvised components.
From its beginning, Hyaku introduces essential qualities in Fujii's music, the subtly organic shape of her initial piano figures, the landscape-like incidental percussion, the dream-like flow state and an undercurrent of welling energy. Each movement will extend a continuum with what has gone before, theme statements, improvised solos and ensemble passages achieving rare homogeneity. Each member of a brilliant ensemble will appear in the foreground, from trumpeters Wadada Leo Smith and Natsuki Tamura through bassoonist Sara Schoenbeck, tenor saxophonist Ingrid Laubrock, electronic musician Ikue Mori and bassist Brandon Lopez to drummers Tom Rainey and Chris Corsano.