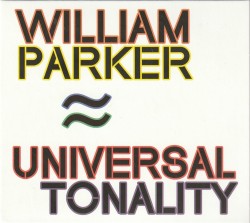 Universal Tonality
William Parker
Centering Records CENT 1030 (williamparker.bandcamp.com)
Bassist and composer William Parker has long been a major figure in New York City, leading ensembles from small to large and making free jazz an activist instrument of community. Universal Tonality, heard here in a 2002 performance from New York's Roulette, is a major composition: its six movements run to 110 minutes and merge orchestra, soloists and song. Singer Leena Conquest, a frequent collaborator, brings warmth and immediacy to Parker's words and melodies, reminiscent of the rich contribution of Abbey Lincoln to Max Roach's music or June Tyson's to Sun Ra's, while a 16-member band articulates the shifting sonic materials and developing layers of Parker's conception, often merging composed and improvised elements in seamless ways in a graphic score.
Parker has an expansive vision of a global sound palette that can be glimpsed in just the instruments involved. Here he includes strings (komungo, koto, dilruba, donso'ngoni), percussion (balafon) and winds (shakuhachi and chiramía) from multiple Asian, African and South American sources as well as violins, various brass and reeds and percussion. It's also a band of distinct instrumental voices, including trombonists Grachan Moncur III and Steve Swell, violinists Billy Bang and Jason Kao Hwang, saxophonists Rob Brown and Daniel Carter, and guitarist Joe Morris, all fitting their individual strengths into Parker's larger schematic patterns and poetry.
Universal Tonality is constructed on a grand scale, but there's nothing particularly daunting about it; its constantly shifting and evolving textures, voices and moods are generally fresh, inviting and accessible.