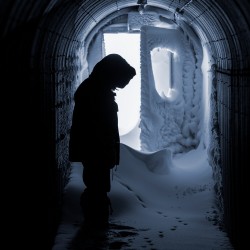 Nate Wooley – Ancient Songs of Burlap Heroes
Columbia Icefield
Pyroclastic Records PR 20 (natewooleypyroclastic.bandcamp.com/album/ancient-songs-of-burlap-heroes)
Composer/trumpeter Nate Wooley possesses focus and drive to match his creativity, embarking on projects that shift and reappear at intervals of years, expanding exponentially. Between 2007 and 2020, his Seven-Storey Mountain grew from a trio accompanied by electronic tapes to 14 musicians and a 21-member choir. Columbia Icefield, a stellar quartet launched in 2019 with guitarist Mary Halvorson, pedal steel guitarist Susan Alcorn and drummer Ryan Sawyer, is growing conceptually. Wooley sometimes quotes 19th-century American authors like Herman Melville, and this work invites terms like "epic" and "monumental." The looming intensity, even dark energy, can suggest Moby Dick.
Wooley's poetic invocation describes the "burlap hero" as "one who marches – consciously or not – back to the sea in hopes of making no splash, who understands and embraces the imperfection of being, and in that way, stretches the definition of sainthood to fit." The CD booklet includes aAron [sic] Munson's grimly evocative photos of an Inuit village in Nunavut, one depicting a frozen whale carcass.
As a trumpeter, Wooley extends the lyric, expressive tradition of Miles Davis and Wadada Leo Smith, adding extended techniques, eerie electronics and over-dubbing. Brief impressionistic inter-tracks suggest submerged struggles, while the three long movements are developed instrumental dialogues, with guest appearances on one track each by violist Mat Maneri and electric bassist Trevor Dunn. The concluding Returning to Drown Myself, Finally, based on the Swedish song, Nu är midsommar natt, is awash with sea sounds before Wooley's unaccompanied trumpet comes to the fore, then surrenders to the guitarists' burbling liquid microtones.