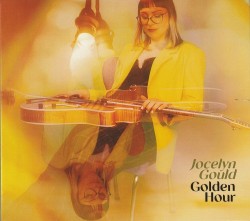 Golden Hour
Jocelyn Gould
Independent JGDC0422 (jocelyngould.com)
Nothing can beat an album intro like this one. Beautiful rubato guitar melodies weave together overtop lush piano chords, punctuated by patient pauses. As the lead voice leans into the last note, the rest of the band hangs onto it, giving the impression of a soft exhale. The spell is eventually broken by catharsis via drum pickup, which manages to feel like a definitive statement without being overly forceful, as if to say "welcome." This is not to overanalyze 30 seconds of music, because one could loosely apply the previous description to the entirety of Golden Hour. It flows perfectly, is extremely dynamic, and has the calming effect of a slow, deep breath. Everything fits snugly in place.
With her sophomore effort, Jocelyn Gould proves herself to yet again be a masterful curator, bandleader and improviser, refining so much of what made 2020's Elegant Traveler so mesmerizing. From that preceding album, the energy itself is largely dialed back, to inject the overall tone with the quietude of observing a sunset. This atmosphere is aided by Gould's approach to song, both through interpretation and composition. Her original music feels every bit as polished and timeless as the jazz standards she chooses to tackle. Serendipity evokes the meaning of its title with grace, with pleasant surprises to be found throughout its form, culminating in an outro that sums up everything the music's about: pure, unbridled unity.