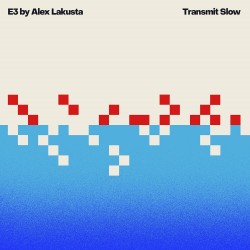 Transmit Slow
E3 by Alex Lakusta
(e3byalexlakusta.bandcamp.com/album/transmit-slow)
Numerous points in Transmit Slow can place a listener in a unique state between dissociation and transfixion, peacefully swaying as blissful minutes evaporate. Drawing from numerous palates of ambient and electronic sound, the trio finds their signature from the outset. Alex Lakusta's bass playing is the definition of substance over style, only playing the notes that lay a necessary harmonic foundation for the ensemble. Drummer Keagan Eskritt and keyboardist Josh Smiley play similarly devoid of superficiality. Transmit Slow is a masterclass in what a rhythm section can achieve artistically when solely focused on grooving as hard as possible. Just as additive are the production efforts of Robert Diack, who adds the perfect amount of polish to the low end; greatly benefiting the music's textural clarity. Brad Eaton rounds out this cast of consummate professionals, guesting with extremely restrained trumpet playing that does nothing more than needed to further contextualize Lakusta's arrangements.
Due to the consistency of Lakusta's refined bandleading style, the tracks blend together almost as if they were parts of a suite, arriving at nary a single passage in contrived fashion. Quite a bit of the overall cohesion is helped by Smiley's patience when it comes to creating drones with his organ, allowing for a profoundly hypnotic throughline. This effect is particularly present on the track All Static/Frequency Lost, which seamlessly switches metre and pulse halfway through. That's the thing about E3, they always stick the landing.