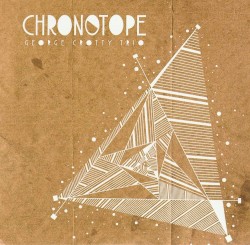 Chronotope
George Crotty Trio
Independent (georgecrotty.com/trio)
Cellist George Crotty, bassist Jonathan Chapman and drummer Matias Recharte have their versatility on full display throughout Chronotope. Produced, led and composed in its entirety by Crotty, the music certainly plays like a showcase of the cello's capabilities. However, while Crotty's virtuosity and melodicism undeniably take center stage, that doesn't mean there exists a hint of passivity from Chapman or Recharte. As an incredibly accomplished two-man rhythm section, they provide a bedrock-solid foundation for the ever-expanding/contracting pace and energy of the sound. Some of the most potent moments occur when the trio triples down on a passage, which functionally puts great emphasis on the more crucial rhythms, all while bringing out the weight of their tandem.
On Prayer Dance, a standout, the lines played in unison instill a sense of urgency in the listener. The combination of Crotty's lyrical, aggressive solo (he combines these elements extremely well throughout the album) and Recharte's dynamic playing almost transcends the trio format in terms of scale, or sheer amount of sound produced over a span of time. In a moment of positively beautiful sequencing, the significantly calmer yet immensely moving Metamorphosis comes next. Chapman hops on electric bass, and his ability to sustain notes within his arpeggios allows for a sound that blankets the mix in warmth, giving a spellbinding depth of harmonic context to Crotty's vibrato. That's the recurring theme throughout Chronotope – the diverse complementary potential of musical instruments being fully realized.