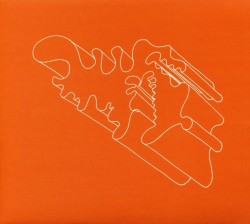 For Simon H. Fell
Rhodri Davies
Amgen 04 (rhodridavies.com)
A studied requiem for UK bassist/composer Simon H. Fell (1959-2020), Welsh harpist Rhodri Davies uses transformative prestidigitation on this eponymous disc to exhibit the assemblage of timbres, pitches and rhythms he can induce from the acoustic pedal harp. Davies and Fell were members of the imposing string trio IST for 25 years – cellist Mark Wastell was the third participant – and although most of this salute evolves at moderato and lento tempos, it's no lachrymose dirge. Instead, the performance includes interludes of bubbling drama, heartfelt emotion and coiled percussiveness.
Interspaced with pauses and reverberations, Davies' almost hour-long creation forges unique harp timbres, which alternately resemble vibraphone reverberations, tombak-like drum strokes, keyboard-like vibrations and woody rubs against unyielding material. All are used for emphasis and sequence shifts. Expected thick glissandi, multi-string drones and singular staccato echoes figure in as well, so that by midpoint multiple strokes are layered into an almost opaque squirming mass. Its subsequent division into single-string high and low twangs and plinks that move forward and ricochet back into the concentrated narrative, suggest not only IST's multiple string tropes, but the sort of unique compositions Fell wrote, arranged and played.
Properly saluting a fellow string player and improviser, this session also confirms Davies' innovative ability to come up with near-orchestral, multi-string motifs sourced with compelling skill from the attributes of only a single stand-alone harp.