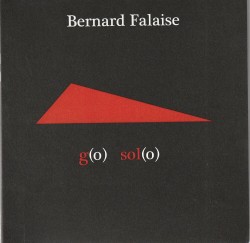 g(o) sol(o)
Bernard Falaise
Ambiances Magnétiques AM 267 CD (actuellecd.com)
Using no overdubs but minimal looping and timbral effects, the seven selections on Montrealer Bernard Falaise's solo guitar tour de force are completely improvised, while pivoting to other instrument-reflecting sounds for greater variety. The attraction of G(o) sol(o) is how Falaise – part of local bands such as Quartetski – uses all parts of his instrument to suggest wider textures while creating miniature sonic tales.
Prime instance of this is the extended 320003, where string shakes and slurred fingering means the staccato introduction on flattened strings is succeeded by bell-pealing shakes, double bass-like low-pitched resonations and organ-like tremolo pulses. These sway the exposition forward into a single line to a buzzing conclusion. Slogan, the slightly longer first track, sets the scene, as bobbing fuzztones and high-voltage shakes rumble along before splitting into pressurized sound loops on the bottom and single-string stings on the top. Both tones are audible as they intersect and slide into one another for a percussive climax.
With pointed stops and starts, Falaise uses varied motifs to define the tunes, including string rubs that drone across the sound field for warmer expositions, or pointillist below-the-bridge scratches for tougher interface. Galop does just that as well, with knob-twisting and effects-pedal-pressure launching tones every which way until all subside into a connective drone.
Sol – G in English – is the fifth note of the C Major scale. Yet G(o) sol(o) cannily treats all of the scale's notes in a unique fashion.