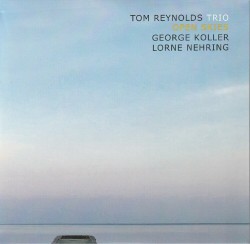 Open Skies
Tom Reynolds Trio
Zsan Records (tomreynoldstrio.com)
With the release of this emotionally and spiritually profound recording, noted pianist /composer/arranger Tom Reynolds has fashioned a musical contribution of special beauty. His noted collaborators here include two uber-skilled and versatile artists: bassist George Koller and drummer Lorne Nehring. Co-produced by the trio, there are 13 original tracks – all composed and arranged by Reynolds throughout the COVID-19 pandemic. The music itself is a meditation on the depth of our isolation and loss, tempered by faith in the human spirit, and in the words of Reynolds, "we wanted to contribute something hopeful and reflective of the possibilities for resilience, kindness and social change during a challenging and emotional time".
The program begins with Far Away Lands, a gentle, Latin-infused ballad with fine performances by the trio, and exquisite piano work from Reynolds. Next up is Butterflies – a gossamer-like work, literally calling out for a Marilyn and Alan Bergman-esque lyric! A real stand-out is Spring Will Come, which is a jaunty and uplifting tune, replete with a superb bass solo from Koller as well as dynamic, succinct and complex drum work from Nehring. Other fine offerings include Hold On, which has some palpable Gospel-infused motifs, and Prism. The trio literally shines here – moving like a single-celled organism, reflecting the prismatic spectrum of light through their instruments. One of the most psychoactive tracks is Guidance, which has been arranged with an esoteric intro (defined by Koller's arco work), which segues into a lilting, melodic expression of joy. Also, of special note is the deeply moving Ode to Nova Scotia, which invokes ancient spiritual presences and heady remembrances of home. The lovely title track reminds us all of the joy of life and art, the delicious taste of freedom and our deep connection to all that is.