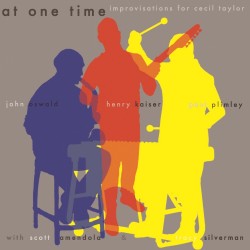 At One Time
John Oswald; Henry Kaiser; Paul Plimley
Independent (henrykaiser.bandcamp.com/album/at-one-time)
This recording is an intriguing experiment in free improvisation created under COVID conditions, advancing a radical notion of the score. The music is developed on the work of an absentee guest: Cecil Taylor, the late pianist and composer who did as much as anyone to shape free jazz and improvised music over the past 65 years.
Californian guitarist Henry Kaiser, Toronto saxophonist John Oswald and Vancouver vibraphonist (usually pianist) Paul Plimley all worked with Taylor and were closely involved with his methods of building music. Here they have developed the novel idea of each improvising separately with a series of Taylor recordings, heard on headphones, then combining the results. The result is a series of pieces in which we listen to three or four musicians (Scott Amendola plays drums on one track, Tracy Silverman six-string fiddle on another) all responding to the same inflexible duo partner, in effect an insistent composition in which each improviser is impervious to the other "performers" that we are hearing.
The music has a special coherence, based in part on the loyalty to the unheard Taylor, creating empathetic and coherent results. The most remarkable track is also the longest, the 27-minute Oceans Felons Salad with Silverman, the group achieving remarkable levels of illusory interaction through their collective fidelity to a missing inspiration. The quality of the music, as well as the imagination of its methodology, makes this one of the year's most significant events in improvised music. Unusual as it may be, it's somehow a great band.