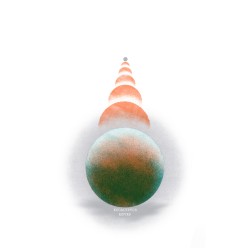 Moves
Eucalyptus
Independent (eucalyptusjazz.bandcamp.com)
There's a long history of jazz embracing popular culture, another of it pursuing experimentation. Sometimes the impulses converge, creating some very interesting moments. Toronto alto saxophonist/ composer Brodie West embraces both traditions with Eucalyptus, an octet with three percussionists that's devoted to complex moods, 1950s Martin Denny exoticism and occasional free jazz expressionism, suggesting both Don Cherry's forays into World Music and, more specifically, Sun Ra's creation of dream states suggesting mid-century lounges suspended in space.
The miracle of Moves, available as LP or download, is that Eucalyptus compresses such dreams into pieces less than six minutes in length. The opening Infinity Bananas has a drum pattern that is at once repeated and internally erratic, holding the angular shards emitted by West and trumpeter Nicole Rampersaud tightly in place. It's in a Move resembles a film noir nightclub scene, West and Rampersaud weaving wobbly melodic leads through an underbrush of Kurt Newman's trebly guitar, Ryan Driver's clavinet and a languid Latin conga drum. Dust in the Wind is very lush, its repeating melodic pattern lapping over itself like waves on a beach. Rose Manor, more languid still and with a burnished brass trumpet solo, ends with a mysterious upward glissando, like an ascending sci-fi spacecraft. The concluding Lookie suggests a band lost in time and space at the end of New Year's festivities, poised between the lachrymose and the parodic.
At times an ironic flirtation with background music, Moves is always more than entertaining, never less than art.