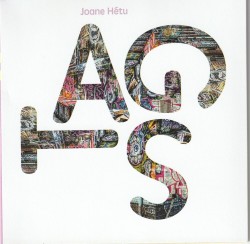 Tags
Joane Hétu
Ambiances Magnétiques AM 268 CD (actuellecd.com)
Tags enters with the tranquil, yet perhaps slightly uneasy droning double stops of bassist Nicolas Caloia and the half-whisper, half-growl of Lori Freedman's sound poetics. The intro is immediately suggestive of a gradual build, while also operating as a self-contained space between intentions, or even different media for sound-creation. This entire project of Joane Hétu's "orphaned" compositions (as she puts it in the liner notes), often feels like it operates in various gray zones, or lost in the middle of listener preconceptions and musical conventions. For example, Freedman and Hétu at numerous points are either simultaneously vocalizing while playing, or at least constantly threatening to cross over into the other means of communication at will.
Members of Hétu's string section commonly opt for a percussive approach to playing arco, which creates a consistent textural effect that beautifully complements the fragmented phrasing of the soloists. These explorations of instrumental function give the music a more nuanced relationship between melodicism, texture and speech than would be otherwise present, creating greater optionality to the realization of Hétu's compositions. The most impressive aspect of Tags is perhaps how the four tracks feel cut from the same tapestry, despite not having the same personnel, and all of said compositions being unreleased strays. This unexpected uniformity is aided by the prevalent relationship between instrumentation and silence. More specifically, as more instrumentation is added, silent passages are increasingly used as a key aspect of form.