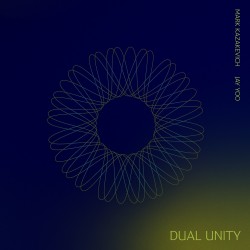 Dual Unity
Jay Yoo; Mark Kazakevich
Independent (distrokid.com/hyperfollow/markkazakevichjayyoo/dual-unity)
Sometimes, two musicians sharing a space can be more than enough to convey volumes of information. This is certainly the case with the partnership between Toronto-based guitarist Jay Yoo and pianist Mark Kasakevich, for whom the label "natural pairing" would be a tragic undersell. Six out of nine of these tunes are composed by the pair, and they all put the "tune" in tuneful, as well as the "sing" in singable.
The set was largely inspired by contemporary/Brazilian jazz forms, and it is a testament to Dual Unity's writing talents that the works of the likes of Jobim and Tania Maria feel perfectly in place. As for the renditions of Insensatez and Quero Não, they are so deeply interpretive that the context of the actual composers feels nearly superfluous. Dual Unity leaves their own imprint on every song they tackle, and this sonic palette owes itself entirely to Yoo and Kasakevich. There are so many moments of sudden unison, where a melodic or harmonic line is relayed by the strength and precision of their tandem. However, perhaps even more compelling are those of the divergent. Having an arrangement of two comping instruments allows for expressive elasticity during the solo sections, freely flowing between monologue and dialogue. Yoo's interjections, in particular, blend seamlessly into walking basslines that both punctuate and provide support. It would be a disservice to not highlight More to It, a Sistine Chapel of melody and interactivity.