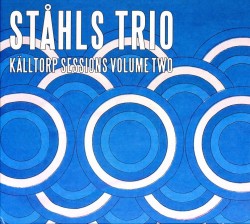 Källtorp Sessions Volume 2
Ståhls Trio
Moserobie MMP CD 126 (moserobie.com)
Balancing on the firm underpinning of knowing strokes from Canadian-in-Stockholm bassist Joe Williamson is this eight-track bagatelle from Swedish vibraphonist Mattias Ståhl's trio. Joined by Colombian drummer Christopher Cantillo, the group-composed tracks are thoroughly contemporary, but due to the vibist's logical progressions and airy, open swing, encompass both Lionel Hampton-style pulsations and Cal Tjader-like nuances. Even a couple of tracks where Ståhl plays silvery soprano saxophone trills as well as vibes, and trombonist Mats Äleklint propels gutbucket slurs into the mix, the enhanced density doesn't exceed harmonic intensity.
Williamson's string suppleness also means that a balladic interlude like Guldkort is marked with expressive well-paced thumps; while faster tunes are propelled with torqued intensity that cunningly backs up freeform group improvisations such as I-Land Du Välsignade. Despite Cantillo wielding a thunder sheet and the vibes' metal bars resonating at an allegro tempo during that track, the bassist's contrapuntal andante pulse prevents any narrative imbalance. Later on, the bassist goads the other two to a harmonized finale. Occasionally introducing the themes with pressurized stops or a walking bass line, Williamson's sly pulses comprehensively fit in with whatever drum crunches or airy vibe timbres are rolled onto the program.
Convincing in having achieved exactly what they set out to do on this disc, the Ståhls threesome also confirm the benefits of international musical cooperation. The result makes one interested in seeking out Volume One.