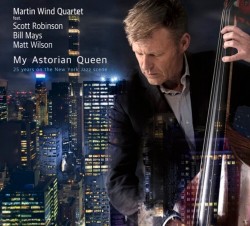 My Astorian Queen – 25 Years on the New York Jazz Scene
Martin Wind Quintet
Laika Records 35103912 (laika-records.com)
Air
Martin Wind New York Bass Quartet
Laika Records 35104002 (laika-records.com)
German-born first-call New York City-based Martin Wind arrived in his chosen home town more than 25 years ago. It wasn't long before the talented young artist and his warm, fat sound, rock solid sense of time, intensity and excellent taste became the bassist of preference for an array of top jazz artists, bandleaders and Broadway conductors. Despite the global pandemic, he has created and released two brilliant, new recording projects in quick succession for the noted German label, Laika Records.
My Astorian Queen, is a love letter to the adrenalin-churning, crazy roller coaster ride that is New York City. The CD features Wind's longtime collaborators, pianist/composer Bill Mays, saxophonist/trumpeter/multi-instrumentalist Scott Robinson and drummer Matt Wilson all digging in to a delightful smorgasbord of Wind's original, biographically infused compositions as well as classic tunes associated with The Big Apple and its colourful denizens.
Thad Jones' Mean What You Say represents a high point in Wind's career, the time when he was first invited to play in the world famous Thad Jones/Mel Lewis Band (now the Vanguard Jazz Orchestra). Wind's solid and sinuous bass line propels the tune. Mays' unmistakeable, lyrical, perfect touch and adventurous spirit are showcased here and Robinson also shines on well-crafted trumpet and sax solos. Wind's haunting original ballad, Solitude, is a sometimes stark reflection on the isolation of the COVID-19 pandemic, and how that seemingly un-ending isolation also stimulated generalized homesickness and longing for far-away friends and family – or just a place where you belong and feel safe.
Of special note is a thoroughly delightful arrangement of the Brazilian standard, È Preciso Perduar and Wind's stunning original title track. My Astorian Queen references his arrival in NYC, and a lovely young lady named Maria who invited him to share her quaint Astoria pad until he found his way. As the fates would have it, that lovely young lady eventually became Wind's wife!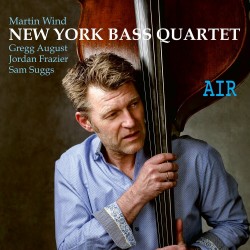 Air features the dynamic New York Bass Quartet (Martin Wind, Gregg August, Jordan Frazier and Sam Suggs) in an eclectic program. Special guests include Matt Wilson on drums and percussion, Lenny White on drums and Gary Versace on piano, organ and accordion. This beautifully recorded project begins with J.S. Bach's Air rendered here in a sumptuous bass quartet arrangement. It is difficult enough to capture every essence of an acoustic bass in the studio and here it has been done four times! Each bass has its own timbre, expression and innate sound – just as one would expect to hear from four human voice boxes.
Next up is (Give me some) G-String, which is a Wind original as well as a tasty musical confection. The bass lines are almost whimsical at times, reflecting Wind's dry sense of humour. Eventually, the funkadelic White and Versace (B3) jump into the soulful mix, driving the ensemble into some fabulous tight, harmonic sequences, culminating in an arco-gasm never before created by a jazz bass quartet. A triumph. Of spectacular beauty is the gorgeously arranged Beatles Medley, replete with some of Lennon and McCartney's most lyrical compositions. A true standout is Wind's arrangement of Joe Zawinul's Birdland – replacing electronica with acoustica – utilizing those organic bass notes that can be felt in your solar plexus. Also stunning is Charlie Haden's Silence, arranged here with sonorous tones creating a spiritual aura and Pat Metheny's Tell Her You Saw Me, a cinematic arrangement in search of a movie. The fitting closer, a contemporary trio version of Air, perfectly parenthesizes this deeply moving and awe-inspiring recording.