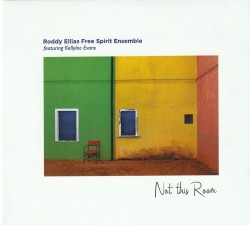 Not This Room
Roddy Ellias Free Spirit Ensemble featuring Kellylee Evans
Independent (roddyellias.com)
With this latest recording, eminent guitarist Roddy Ellias shines not only as a gifted musician, but as a fine and facile composer and arranger. Every song in this collection was written by Elias, and the compelling, and often haunting lyrics were written by noted Canadian poetess Sandra Nicholls. Both the music and lyrics here require the participation of very special artists, and joining Elias on this deeply personal project is the inspired vocalist and lyrical interpreter, Kellylee Evans, as well as a lineup of skilled musicians, including Ellias on acoustic steel string guitar, Marc Copland on piano, Justin Orok on nylon string guitar, Chris Pond on bass, Jose Garcia on percussion, Petr Cancura on reeds and mandolin, Guy Pelletier on flute, Richard Page on bass clarinet and Pierre-Yves Martel on viola da gamba.
Evans' emotional intelligence permeates the stunning title track, and beckons the listener to participate in the journey ahead. As the tune segues into a more rhythmic section, the ensemble playing, including Garcia's subtle and driving percussion, is nothing short of breathtaking. These artists are clearly listening to each other and are creating every musical nuance in synchronicity – like a single-celled being,
Of special note is the moving and thought-provoking Draw Me a Circle, in which Evans' warm and sinuous voice effortlessly scales the pure notes of her upper register, diving into her cello-like tones (the perfect complement for Martel's gamba). Other gems include the stark and mystical Blood and Bone and the haunting, Middle Eastern-modality-infused Suddenly. The touching and uplifting Prayer is the perfect closer for this evocative project of nearly unbearable beauty and fragility.