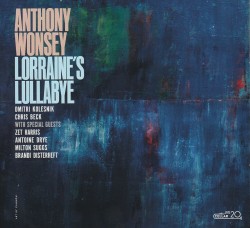 Lorraine's Lullabye
Anthony Wonsey
Cellar Music CM012421 (cellarlive.com)
Pianist Anthony Wonsey's style consists equally of tastefulness and invention. His renditions of Richard Rodgers' I Didn't Know What Time It Was and It Might as Well be Spring are full of tunefulness and clarity, while still maintaining a distinctive group sound. In particular, the way in which he plays around with groove and contour alongside drummer Chris Beck gives these classics a reinvigoration seldom seen elsewhere. The central fulcrum of this album, however, is Wonsey's own composing, in which he establishes his abilities as both a consummate songwriter and attentive facilitator of his rhythm section. The harmony itself is shimmering with assuring familiarity and yet there is an element of unpredictability that entices the listener.
Rhythmically, the penmanship and improvisation seem to inform one another. On Blacker Black's Revenge, Wonsey and bassist Dmitri Kolesnik's phrasings are conversational yet serpentine, starting as abruptly as they finish, while seamlessly leading back to the primary motif. Wonsey's own playing possesses key characteristics of control and range. More often than not his solos have the feeling of ease, leaving enough room to punctuate lines and accentuating the rhythmic pocket. His undying commitment to the cohesiveness of his ensemble makes those rare moments when he takes flight (see: Do You Remember Me) notably more impactful. Every track on here is golden.