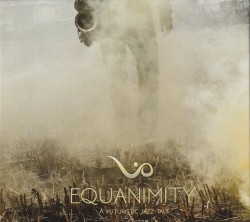 Equanimity – A Futuristic Jazz Tale
Viktor Haraszti (ViO)
ViO Music VM-0001-CD (viomusic.art)
ViO is the alter ego project of multi-instrumentalist Viktor Haraszti, in which he seeks complete creative liberation from jazz conventions. On ViO's latest album, which self-categorizes as a "futuristic jazz tale," it is safe to say that Haraszti realizes his vision, both in ambition and execution. Unlike ViO's prior work, this is undeniably a Haraszti solo effort. With the exception of three spoken word passages courtesy of Lisa Marie Simmons, and occasional percussion courtesy of Dave King and Marshall Curtly, every single aspect of this music is dictated by Haraszti. He plays every instrument (one of his favourite moves being layering multiple reed instruments to create harmonic lattices), is responsible for the rich production, and composes/arranges each second of music.
The stylistic qualities of Equanimity vary from enveloping ambient passages to solemn contemplations that soundtrack Simmons' words while also giving them context. Between the heavier moments of the suite lie surprising instances of levity. Chapter Five is a change in pace and mood that I hadn't realized the music needed. It retains the compelling spectacle of prior tracks, but creates an atmosphere of hopefulness by taking a turn into danceable territory. Haraszti introduces elements one by one throughout this masterfully paced experience, including successful flirtations with electronics, giving the overall sonic palette a new, unexpected dimension. The climactic Chapter Seven even borders on electro-pop at times.