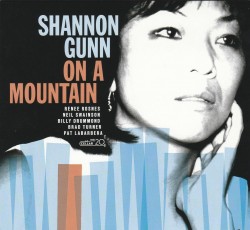 On A Mountain
Shannon Gunn; Renee Rosnes; Neil Swainson; Billy Drummond; Brad Turner; Pat LaBarbera
Cellar Music CM052001 (cellarlive.com)
With last year's untimely loss of gifted jazz vocalist, composer and dedicated jazz educator, Shannon Gunn, a painful shockwave passed through the Canadian jazz community. Gunn was well respected and loved as a kind, generous and inspired musical force, and with the release of this never-before-heard 2002 recording, her significance as an artist is clear. For the project, Gunn surrounded herself with dear friends and Canada's most skilled musicians, including producer/pianist/composer Renee Rosnes, bassist Neil Swainson, drummer Billy Drummond, trumpeter/arranger Brad Turner and tenorist Pat LaBarbera. The program features a tasty selection of original tunes, as well as contributions from Tom Jobim, Cole Porter, Carla Bley and Renee Rosnes.
First up is the haunting Gunn composition, From You. Her sumptuous voice is so warm and rife with emotion – reminiscent of the great Irene Kral. Rosnes' sensitive and harmonically sophisticated solo is a thing of beauty, as is the trio work, and the perfect complement to Gunn's vocal. A standout is Carla's Blues by the eminent Carla Bley and jazz vocalist Norma Winstone. The arrangement (by Gunn's partner, Brian Dickinson) is dynamic and energizing – the solos by Turner and LaBarbera are both swinging and exquisite and Drummond's taste, skill and rock-solid rhythmic sensibility propel everything.
Another stunner is Lerner and Loewe's classic, I've Grown Accustomed to His Face, featuring a duet between Gunn's rich alto voice and Swainson's nimble, sonorous bass. Gunn's original On a Mountain, transports the listener to a mystical musical precipice. The beautifully arranged closer is Porter's Everything I Love, which is quite appropriate, as it expresses not only my feelings about this CD, but the fact that Gunn herself was all about everything that we love.