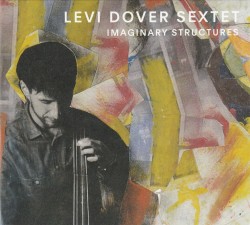 Imaginary Structures
Levi Dover Sextet
Three Pines Records TPR-004 (levidover.com)
In his debut as a leader, Montreal bassist Levi Dover has concocted something refreshingly original while also remaining true to his post-bop influences. From the very moment they hit the listener's ears it's apparent Dover's compositions have a methodical quality to them; every statement of a tune's central melody utilizes his entire sextet to its full expansive potential. Each line trickles into the next smoothly, as if the instrumentalists are finishing each other's sentences. Musical phrases possess the easy flow of a daily conversation between friends. Dover is a very deliberate arranger, and one of his most interesting creative decisions (that ends up being greatly to the benefit of the music) is heavily featuring two functionally similar instruments: vibraphone and piano. Additionally, pianist Andrew Boudreau and vibraphonist Olivier Salazar are often playing the same material in tandem, creating an incredible textural effect that almost feels like an aesthetic marriage of Andrew Hill and Bobby Hutcherson.
While a fair bit of Dover's ornate writing brings to mind vintage mid-60s Blue Note, his personal progressive and classical leanings also shine through on immensely electrifying standouts like L'Appel du Vide and Galapagos. Boudreau is more often than not an effective mouthpiece for Dover's vision, grounding the band through the more complex passages of rhythmic counterpoint and constantly serving as the primary accompanist for Dover's own playing. Imaginary Structures is beautiful, and Dover establishes himself as an artistic force throughout eight masterful ensemble performances.