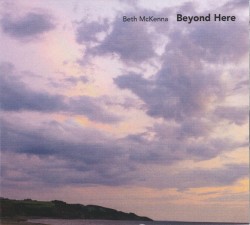 Beyond Here
Beth McKenna
Independent (bethmckenna.ca)
Beth McKenna really showcases her versatility as a bandleader, writer and improviser on her most recent effort, Beyond Here. Throughout the record, the sextet of McKenna on woodwinds, François Jalbert on guitar, Guillaume Martineau on keys, Oliver Babaz on bass, Peter Colantonio on drums and Sarah Rossy on voice, manages to generate a versatile sound that often borders on the sublime. The album's mood changes significantly but never in a manner that feels jarring, as the unwavering richness of the arrangements and production helps maintain cohesion.
McKenna's care for her craft ensures that the ensemble thrives as a unit, and her graciousness as a bandleader allows the spotlight to be evenly distributed among musicians. Rossy's talents are featured most sparingly, but they are perhaps utilized most effectively, often at the end of pieces when the energy reaches its apex. McKenna and Colantonio's impassioned playing complements the overall tone beautifully and adds a fair bit of substance to the music. The overall quality of improvisation is outstanding, particularly with the breathtaking interplay between members of the rhythm section in tracks such as From Divided to One.