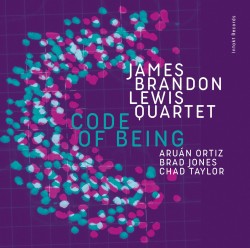 Code of Being
James Brandon Lewis Quartet
Intakt 371 (intaktrec.ch)
Tenor saxophonist James Brandon Lewis began recording about a decade ago, around the time he finished studies at CalArts with, among others, Charlie Haden and Wadada Leo Smith, two profoundly lyrical players. Since then, Lewis has become a powerful voice reflecting the jazz tradition, his controlled intensity recalling John Coltrane circa 1964 (e.g., Crescent), his broad sound and emotive vibrato suggesting David S. Ware. Like them, Lewis is suspended between the creative risk of free jazz and the explosive tension of form, here using composed melodies with freely determined harmonies.
That controlled intensity is apparent from the opening Resonance, the group realizing multiple levels of activity, from pianist Aruán Ortiz's looming chords to the press of Brad Jones' bass and the rapid-fire, dense rush of drummer Chad Taylor's sticks across his rattling snare and cymbals, and a pulsing hi-hat cymbal receiving simultaneous attention from foot-pedal and sticks. It's Taylor's special gift, rarely heard and consistently reinforced by his collaborators, to convey both majesty and mission, grandeur and struggle, wedding a nobility of sound with underlying tension and tumult that threaten disintegration. The emotional complexity extends to Every Atom Glows, a glacially slow, utterly beautiful piece that expands through its fragility.
The title track is highlighted by Ortiz's densely inventive solo, its complex lines overlapping and compounding in a welling mystery that suggests Andrew Hill, specifically, but also the whole ethos of those mid-60s musicians who first fused the energies of post-bop and free jazz.