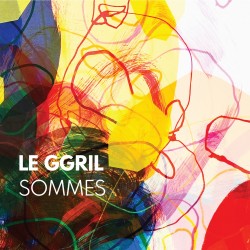 Sommes
Le GGRIL
Tour de Bras TDB9051CD (tourdebras.com)
In 2014 I wrote my first sustained account of GGRIL, Grand Groupe Régional d'Improvisation Libérée, the large-scale, Rimouski, Quebec-based orchestra devoted to free improvisation, conduction, graphic, text-based and any other kind of score that falls into its wide purview. The article was based on hearing and talking to GGRIL members at FIMAV (Festival International de Musique Actuelle de Victoriaville), and the final sentence read: "GGRIL is currently recording scores by a wide variety of composers for their next album, Collection, a three-CD set that includes the pieces by Robert Marcel Lepage and Jean Derome performed at FIMAV." Though it's taken longer than expected, that ambition is now realized with Sommes, a three-CD commemoration of GGRIL's 15-year history, 11 works dated from 2013 to 2020 by Québécois, Canadian and international composers, all newly recorded in fall 2020 by an edition of GGRIL that includes 21 musicians and a guest appearance by Quatuor Bozzini.
That original Lepage work, the 14-minute Alice, appears on disc one, an abstracted comedy reimagining Lewis Carroll's work as a series of jagged, pecking dialogues between individual instruments, frequently in the bass register, occasionally reshaping the scenes with rapid-fire percussion. A brief solo episode, Chat de Cheshire, becomes a leitmotif through the set, appearing first as a bass prelude by Luke Dawson, then twice on each succeeding CD, by classical guitarist Pascal Landry, trombonist Gabriel Rochette-Bériault, cellist Rémy Bélanger de Beauport and electric bassist Éric Normand, the GGRIL founder and firebrand whose modesty limits his credits here to electric bass and a single conducting appearance.
Fifteen years in, GGRIL's achievement seems extraordinary, a miraculous collaboration of state arts funding, local isolation and rare vision, involving composers from across Canada and Western Europe as well as Quebec. Alison Cameron's In Memoriam Robert Ashley, a work of startling evanescence, drips beauty; Martin Arnold's Éistphéist, featuring Quatuor Bozzini and the composer's banjo, turns the gestural phrases of folk music into a 25-minute dreamscape. The ensemble's devotion to chance and the unique realization is apparent in the textural surprises of Lori Freedman's playful Chances Are and in two distinct realizations of England-based saxophonist Caroline Kraabel's Une note n'écoutant qu'elle-même. Other composers represented are Lisa Cay Miller, Malcolm Goldstein, Michel F. Côté, Jean Derome (his La courbe du moment from 2014) and Gus Garside.
The most ambitious performance here may be the opening one, French pianist Frédéric Blondy's Îlots turgescents, a work of segments ("islands") that demonstrates the orchestra's range and power, from sudden, airliner-like, ascending glissandi to an extended, shifting drone that might model the ultimate funerary chord, stretching out to perpetuity until it includes within it an extended, gradual upward glissando increasing in amplitude. Weird Polynesian lounge jazz follows.