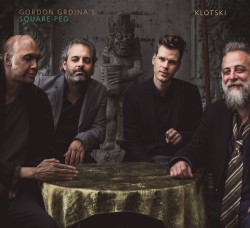 Klotski
Gordon Grdina's Square Peg
Attaboygirl Records ABG-2 (gordongrdina.bandcamp.com)
Pendulum
Gordon Grdina
Attaboygirl Records ABG-1 (gordongrdina.bandcamp.com)
Over the past decade, Vancouver-based composer/guitarist Gordon Grdina has emerged as one of Canada's most prolific jazz musicians. He has formed and recorded with a series of distinct bands, including New York-based ensembles – his eponymous Quartet with Oscar Noriega, Satoshi Takeishi and Russ Lossing and the trio Nomad with Matt Mitchell and Jim Black – and such Vancouver groups as his string-dominated Septet and the Arabic music ensemble Haram. All that activity has now led to Grdina's own label, Attaboygirl Records, which launches with two releases, one introducing a new international quartet, the second a program of solo music for classical guitar and oud. Each testifies to Grdina's remarkable capacity for growth.
With Square Peg, Grdina blends his electric guitar and oud with two Americans, violist Mat Maneri (a long-standing explorer of quarter-tone improvisation) and bassist Shahzad Ismaily (also making adept contributions on synthesizer) and German drummer Christian Lillinger, a rising star in Europe who brings a special animation to any ensemble of which he's a part. Klotski is a 53-minute work in eight parts, modular pieces that can be introduced by any member of the group and which are linked by collective improvisations. At the core of the music is the strong rapport of Grdina and Maneri who share a fondness for nuances of pitch and subtle shifts in repeating motifs. At times the musical thought is so close that one may cease distinguishing between oud or guitar and viola, as if they're being played by a single mind, particularly evident in the kind of profound reverie that arises in a work like Bacchic Barge, in which the music's ultimate effect includes both the intertwined strings and the metallic glitter of Lillinger's snare and cymbals.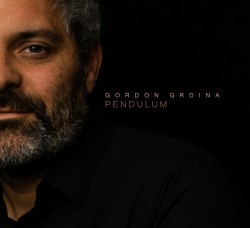 On Pendulum, his third solo CD, Grdina concentrates on classical guitar and oud. On guitar he creates mysterious tonal intersections out of contrasting cultural references, a quality immediately apparent on the opening Koen Dori, initially written for a Japanese ensemble. The solo performance here hangs between East and West, idiomatic pentatonics and a broad vibrato on slow passages emphasizing the former within a context of richly European harmonies. The effect is not dissonant, however literally that might be applied, but concordant, similar to the quality achieved with Square Peg. Western harmonic conceptions strongly colour the glassy reverberating chromatic weave of Contra, while Wayward, the longest track here and one of two oud pieces, is characterized by rapidly shifting dynamics, an expressive intensity and a movement from traditional modality to increasingly complex pitch distortions and relations.