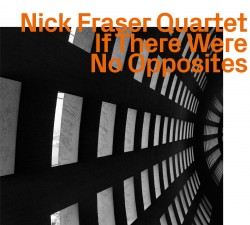 If There Were No Opposites
Nick Fraser
Independent (nickfraserthedrummer.com)
Drummer/composer Nick Fraser's eponymous quartet is amongst the most distinctive Canadian bands to emerge in the past decade, maintaining consistent personnel that includes New York saxophonist Tony Malaby as well as Fraser's longtime Toronto associates, bassist Rob Clutton and Andrew Downing, here playing cello rather than his more customary bass. If There Were No Opposites is the group's fourth CD since 2012, and it marks another step in their evolution, with a kind of telepathy arising in the collective handling of Fraser's compositions and sketches.
Fraser's subtle sense of form adds a special element to the program. The CD begins with Improvisation (Part 1), a flurry of upper-register pizzicato, soon joined by gruff tenor saxophone and a high-pitched keening string melody; within a minute, it shifts to a somber ballad, the tenor tamed and mingled with bowed strings and cymbal washes. The CD's concluding piece, Improvisation (Part 2), which begins with unaccompanied drums, is literally the continuation of the first, a clever bracketing of the composed pieces within the spontaneous, inverting the traditional jazz pattern of enclosing improvisation within form-defining statements.
In between there are five Fraser compositions, each a distinct springboard for the band's often tumultuous creativity, lines and timbres constantly assembling, dissolving and reassembling in ways that are at once loose and precise, whether it's the rapid-tempo explosion of Sketch #50 or the piquant, transformations of The Bulldog and the Capricorn. This is exceptional music making.