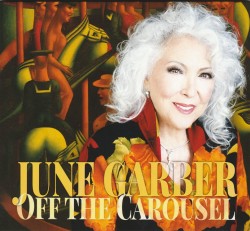 Off the Carousel
June Garber
Vesuvius Music VMI-005 (junegarber.com)
Luminous chanteuse and performer June Garber has just released a compelling, emotionally and musically profound recording. A deeply personal project, every track is like a small, perfect piece of cinéma vérité – a journey through the commonality of the human experience through Garber's autobiographical musical lens. Musical genius Lou Pomanti produced and arranged the recording, and also performed on a variety of keyboards. As the CD was created when it was impossible (due to COVID) to record together in the studio, under the expert direction of Pomanti the tracks were created individually and remotely, and then assembled. The talented musicians here include Steve Heathcote on drums, Marc Rogers on bass, Jake Langley on guitar, Drew Jurecka on strings, William Sperandei on trumpet and Robyn Black on background vocals.
The moving opener, He Never Mentioned Love, sets the tone for this romantic, emotional journey of an album, where Garber acts as both muse and tour guide. Langley's soulful guitar solo moves in and out of the languid string lines of almost unbearable beauty as Garber captivates with every note and nuance. Of special, remarkable beauty and delicacy is the inspired composition of the Bergmans and Michel LeGrand, Windmills of Your Mind. Garber fearlessly sails through this melodically and lyrically challenging tune on the wings of a truly inspired arrangement by Pomanti.
Every track on this recording is a luscious listening experience – from Lil Hardin's sexy, bluesy Just for a Thrill (with special guest Jackie Richardson) to a unique, rhythmically infused take on Chick Corea's Spain, where Garber's rich, warm tones elicit pure joy! Of special mention is the rarely performed Johnny Mercer/Barry Manilow ballad, When October Goes, performed here to perfection with pristine guitar and voice. The deep emotional honesty in Garber's interpretation is nothing short of breathtaking.