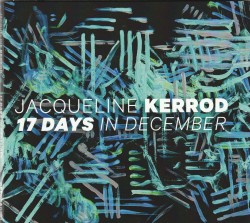 17 Days in December – Solo Improvisations for Acoustic & Electric Harp
Jacqueline Kerrod
Orenda Records 0093 (jacquelinekerrod.com)
Many people think of original music in a hierarchical sense, looking down on pure improvisation as something that doesn't require mastery or discipline. One listen to Jacqueline Kerrod's solo harp debut will serve as an epiphany for those cynics. In fact, I found myself awestruck by Kerrod's seemingly limitless expressive range.
17 Days was recorded in the format of a musical diary, comprising one-take improvisations on consecutive days in the month of December. In the liner notes, Kerrod stresses the importance of simplicity in her approach and letting the music "be what it want[s] to be." As a result of this philosophy, each piece takes on its own distinct shape, and yet the entire tracklist is held together by Kerrod's improvisational identity. The combination of patience and inventive musical vocabulary results in a sound that is entirely unique to her and there is a consistent logic to the myriad enveloping soundscapes and intricate shapes that she creates. The music is never predictable, but even when switching from glitchy electroacoustic moments to warmer, familiar tones, it never feels disjointed or arbitrary. Kerrod's tremolos, kinetic phrasing and rhythmic jabs enable her to get incredible mileage out of even the smallest ideas. The tracks fit together beautifully, despite not being sequenced in chronological order, a testament to how fully fleshed-out these spontaneous compositions are.