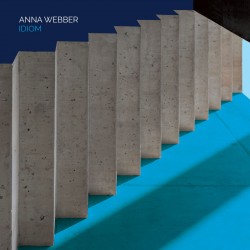 Idiom
Anna Webber
Pi Recordings PI89 (pirecordings.com/albums/idiom/)
Anna Webber extends her creative trajectory with this two-CD set, exploring a critical issue arising between her roles as improviser and composer: "While as an improviser I was interested in extended techniques and in the saxophone as a creator of 'sound' and not just 'pitch,' my compositional world was limited to the latter." For her Idiom series, each composition is based on an "extended technique" from her improvisatory practice, whether circular breathing (for continuous sound), multiphonics (compound sounds) or audibly percussive fingering.
Disc One presents her longstanding Simple Trio with pianist Matt Mitchell and percussionist John Hollenbeck. That apparent economy of means testifies to Webber's imaginative powers, demonstrating an expanding palette, from the percussive repetition of a short flute motif in Idiom I to the concluding Idiom III, a demonstration of the daunting intensity and complexity a trio might achieve as her repeating multiphonic phrase is matched to corresponding piano and drum parts, the tension ultimately breaking into free improvisation.
Disc Two presents the 62-minute Idiom VI, its six movements and four interludes performed by a 12-member ensemble of strings, winds, percussion and synthesizer, alive with distinguished improvisers and conducted by Eric Wubbels. Creating moods from subtle lyricism to raw expressionism, and some unnameable compounds, Webber fuses unusual timbres in fresh, sometimes unidentifiable ways, including loose-lipped trombone explosions, tamboura-like drones and similarly unlikely massed police whistle blasts. Along with Webber's own presence on flute and tenor saxophone, trumpeter Adam O'Farrill, violinist Erica Dicker and contra-alto clarinetist Yuma Uesaka make significant solo contributions to one of 2021's most notable releases.