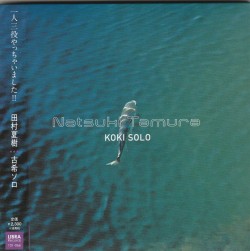 Koki Solo
Natsuki Tamura
Libra Records 101-066 (librarecords.com)
Executive produced by the incomparable Satoko Fujii and recorded in Natsuki Tamura's own home, Koki Solo is a collection of improvisations that equally showcase Tamura's decades of playing experience and his boundless curiosity. He breaks with conventions of instrumentation and form with admirable enthusiasm and assurance. Beyond his typical innovations on the trumpet, he also experiments with piano, voice and even cookware from his kitchen.
While he admittedly doesn't have anywhere near the same mastery on instruments other than trumpet, it doesn't stop him from doing amazing work. For example, during his piano improvising on Bora, Tamura's patient drone in his left hand engages in compelling dialogues with both the open melodicism of his right hand and his arresting vocal exclamations. Similarly, on Karugamo, the detailed, textural tour through the contents of his kitchen gradually evolves into a rhythmical call-and-response with his forcefully enunciated syllables.
Regardless of the various unfamiliar waters Tamura dips his toes into, he is the definition of a master improviser, and that translates to everything he does. Not a single phrase he plays or utters is an afterthought, or a throwaway. Every note is imbued with feeling and meaning and he expertly uses space to punctuate and emphasize. Fujii's spotless production complements Tamura's style perfectly, ensuring there is nary a detail in the music that sounds insignificant. An abundance of tangible passion can be felt in the performance of Koki Solo, and it's infectious.