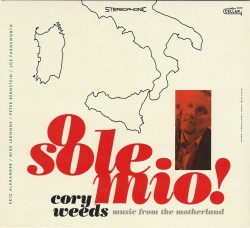 O Sole Mio – Music from the Motherland
Cory Weeds; Eric Alexander; Mike LeDonne; Peter Bernstein; Joe Farnsworth
Cellar Music CM100619 (cellarlive.com)
For years, the venerable New York uptown jazz bôite Smoke featured Mike LeDonne on B3 Hammond organ, along with his funkadelic ensemble, the Groover Quartet. Canada's own Cory Weeds – who is not only a fine alto saxophonist, but the founder of Cellar Records (a multiple award-winning, international jazz label) – was also long hip to this soulful group and began an extended performance and recording relationship with these fine musicians that continues to this day. Produced by Weeds and LeDonne and featuring Weeds on alto saxophone, Eric Alexander on tenor sax, LeDonne on B3, Peter Bernstein on guitar and Joe Farnsworth on drums, this exceptional new recording is a jazzy celebration of the Italian-American songbook, rife with traditional compositions, an offering from iconic jazz bassist Paul Chambers and cinematic hits from Henry Mancini and Nino Rota.
Not only can these guys groove, but they're an incendiary device, as typified by a swing-infused O Sole Mio, featuring exquisite sax work from Weeds and Alexander. Mancini's film noirish Mr. Lucky instigates Alexander's bobs and weaves, while Pat Martino's bebop anthem On the Stairs showcases pumpitude from all five members of the band.
A deep, groove-infested Estate allows Weeds to shine – passing through each sultry emotional permutation. Also brilliant are Torna a Surriento, featuring the incredible Bernstein on guitar, with contributions from Alexander on tenor. A real standout is the funky-cool Moody Blues, which transports the band to California's West Coast in the 1950s. Consummate keyboardist LeDonne is the star here – bringing to mind all of the greats of the B3, while being derivative of none. The closer, Chambers' Capricci di Camere (Whims of Chambers) is pure, joyous boplicity!