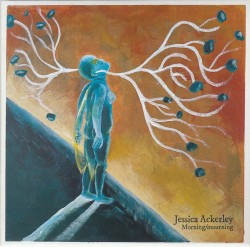 Morning/mourning
Jessica Ackerley
Cacophonous Revival Recordings CRR-009 (jessicaackerleyguitar.tumblr.com)
Though it's no exchange that one might choose, the COVID-19 lockdown has often replaced the social and convivial elements of music with the depth of solitary reflection. A series of remarkable solo performances has been the result, and Alberta-born, Honolulu-based guitarist Jessica Ackerley's contribution, recorded during self-isolation in a friend's New York apartment in the final days of 2020 and the first of 2021, is among them..
Her music straddles free jazz and free improvisation, and there's a special power afoot here – part expressive determination, part introspection – that the intimate recording captures: the textures of fingers, strings and guitar in close proximity. Ackerley's roots in jazz guitar run deep, evident in the precision and imagination of her plectrum technique. It's especially noteworthy in a set inspired in part by the deaths of her teachers Vic Juris and Bobby Cairns.
That accelerated picking would mean nothing if it weren't intimately connected with Ackerley's quality of thought. As Inner Automation develops, she seems to be dial-twirling in space: contrasting and discontinuous figures leap from the fingerboard, colliding, then exploding into auditory fireworks. Much Gratitude to You, for You takes the same approach to more traditional techniques with its rapidly muted gestures and occasional hanging chords suddenly broken up with the emotional drama of rasgueado strums, derived from flamenco. The concluding Morning, another contrast, matches folk reverie with strangely dissonant, glassy harmonics.
Ackerley makes music of significant depth. It's music that insists on being heard.