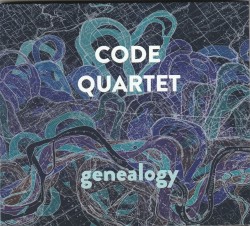 Genealogy
CODE Quartet
Justin Time JTR 8622-2 (justin-time.com)
CODE is a Montreal-based outfit consisting of Adrian Vedady on bass, Christine Jensen on saxophone, Lex French on trumpet and Jim Doxas on drums. The similarity between this exact instrumentation and that of Ornette Coleman's classic quartet is indeed intentional. In the late 1950s, Coleman and Sonny Rollins both found themselves drawn to the idea of playing with a chordless ensemble, feeling creatively boxed in by the harmony being stated outright. This is what makes the title of Genealogy so fitting; it suggests a following of this musical lineage.
Coleman's influence is inescapable for the entire duration of the album. On all tracks but the French-penned opener Tipsy (which has a pretty standard chord progression), the revolutionary "time, no changes" format is used as a medium for the band's various modes of expression. Multiple heads can be described only as Coleman-esque, particularly the title track, but the band balances tribute and evolution quite well. Besides the band's technically sound production (the entire quartet was responsible) and Doxas' additional studio wizardry on the mix, there is also an aspect of this modernization that lies in the playing itself. The first "free" track on the album is Vedady's Watching It All Slip Away, taking what would otherwise be a typical Latin groove until French goes off during his solo, and the take on O Sacred Head, Now Wounded beautifully combines reverence with freedom. Ultimately, Vedady is Charlie Haden, providing the foundation, adhesive and roadmap.