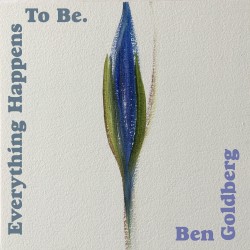 Everything Happens To Be
Ben Goldberg
BAG Production Records BAG018 (bengoldberg.net)
Since debuting with the New Klezmer Trio in 1991, clarinetist Ben Goldberg has produced consistently inventive, often witty music, whether playing works by John Zorn or Merle Travis. His four stellar partners here all have previous connections. Tenor saxophonist Ellery Eskelin shares a breadth of reference, sentiment and humour. Goldberg has played duets with bassist Michael Formanek, while guitarist Mary Halvorson and drummer Tomas Fujiiwara have previously joined Goldberg in the improvising trio The Out Louds.
The opening What About suggests the gentle melodic clarity and sudden surprise of Jimmy Giuffre, while Cold Weather and Chorale Type are updates of early jazz textures, given added authenticity by Goldberg's acquisition of an E-flat Albert System clarinet, the kind employed by New Orleans musicians a century ago. It lends a particularly woody warmth to the kind of abstracted counterpoint Goldberg and Eskelin practise here, sometimes further enhanced by Halvorson's electronic squiggles.
That Goldberg wit surfaces as well with Tomas Plays the Drums: Fujiwara does, but not in a solo feature; instead, he appears at the end of a collective blast of bass clarinet, saxophone multiphonics and electric guitar squall, one more unlikely episode in Goldberg's surprise package. The program ends with Abide with Me, a 19th-century hymn set to the melody of Eventide, composed by William Monk, a tune Goldberg first encountered as a child in a rendition by Thelonious Monk. It's played straight, for 1'10". Now that's jazz wit.