Although unusual before that time, by the early 1960s a trio consisting of a double bass and drums, with a saxophone upfront, became increasingly common in jazz and improvised music. Initially influenced by the sound explorations of Sonny Rollins and Ornette Coleman, the configuration has since become so common that it rivals the traditional piano trio. Stripping interactive textures to their most basic with one woodwind, one percussion instrument and one string instrument challenges trio members to be as creative within these limitations as they would in a larger group.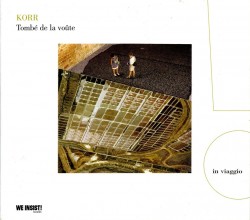 French soprano/sopranino saxophonist Michel Doneda, who has been involved in varying improv configurations over the past 40 years, adapts to this format as part of CDWEIN14 weinsistrecords.com). Joined by Italians, veteran percussionist Filippo Monico and much younger bassist Andrea Grossi, the three create a mixture of multiphonics and melody with almost half the CD given over to the seven-part f.t.f suite. Memorable interpretations and intersections emerge on all tracks, with Grossi's col legno and spiccato thrusts serving as contrapuntal foil to Doneda's multiphonic explorations. Limiting himself to the occasional shuffle or cymbal accent with an irregular pulse, Monico stays in the background. Meanwhile, from the introductory not impro in roc all the way to the concluding re:call, the saxist and bassist operate like an accomplished comedy team feeding each other unexpected lines and reacting by topping or embellishing the japes. On the first tune this involves matching triple tongued saxophone shrills with elevated string pressure that almost replicates reed properties. A proper finale, re:call climaxes as mellow reed burbles hook up with balanced string strokes, after spiralling sopranino squeaks from inside the horn's body tube are challenged by swaying string slaps. As for the suite, almost every imaginable timbre is exposed during each brief, connected sequence. Tremolo bagpipe-like drones alternate with compressed air forced out of the horn without key movement; or terse reed peeps share space with inflated aviary-like shrills from Doneda. Meanwhile Grossi's expositions encompass techniques ranging from fluid spiccato strops to full-toned rhythmic vibrations, to echoing strokes that resemble the mechanics of long-string compositions in notated music.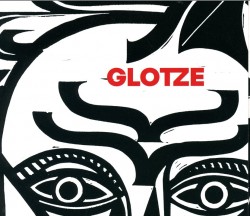 Arriving from an almost diametrically opposed concept is GLOTZE I (Boomslang Records Boom 0613 boomslangrecords.bandcamp.com), an eponymously named German trio whose briskly kinetic tracks move on from the speed and strength projected by many freeform trios since the heyday of energy music. Adding echoing strokes from Philipp Martin's electric bass to the power pulse of drummer Philipp Scholz and the strident bites of alto saxophonist Mark Weschenfelder, the band ends up with 11 miniatures as reminiscent of the Ramones as Rollins or Return To Forever. While it's only the final De Wert that features overwrought buzzing from the bassist and noisy tones launched or unexpectedly cut off by the saxophonist's overblowing, other tunes have arena rock equivalents. They include Klangschale #1, a cymbal vibrating, bell-tree shaking, water-bottle popping percussion showcase for Scholz. Other tracks are more reminiscent of Ornette Coleman's electric bands, as harsh saxophone yelps are matched by stentorian thumb pops or sluicing vibrations from the electric bass, all of which evolves over a carpet of buzzing percussion and cymbal crashes. At the same time Weschenfelder's playing isn't all frenetic flattement and split tones. For every tongue-slapping variation there are tracks such as Durchführung #1 and Hobel #3 where floating trills and breathy straight-ahead theme elaborations are buoyant enough to bring Paul Desmond to mind and are met by sympathetic guitar-like comping from Martin.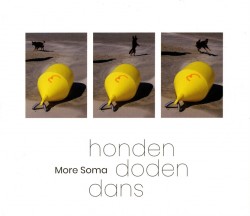 Meanwhile the Lille, France-based More Soma trio on Hondendodendans (Microcidi 019 circum-disc.com) stretches the creation of freeform improvisation into the 21st century, giving it a more luminously layered but no less ecstatic cast. Built around the altissimo smears, basso scoops and split tones of alto and baritone saxophonist JB Rubin, the ruffs and rebounds from drummer Fred L'Homme and the sweeps or dot-dash plucks of bassist Mathieu Millet, the three gallop through four tracks with moderated responsiveness coupled with unpredictable invention. On a tune such as God B, Rubin's vibrations from the sax's body tube, coupled with flutter tonguing, projects a secondary, complementary tone alongside the baritone sax's lowest reaches. Still open-palm drum shuffles and reverberating slaps from the bassist preserve the broken octave narrative. Similar power dynamics are expressed on alto saxophone features like Dog A as Millet's seemingly unstoppable strumming sets the pace even as L'Homme's ruffs and paradiddles redefine the time and Rubin's duck quacking and corkscrew honks repeatedly fragment pitches. Triple cohesive refinement, however, ensures that no matter how many reed multiphonics are snarled upwards, bass strings stropped or drum pressure applied, horizontal expositions are maintained.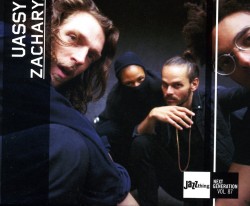 This necessary balance is more obvious on Zacharya (Double Moon/Challenge Records OMCHR 71387 uassyn.com), the debut CD of the young Swiss trio Uassyn. Eschewing rock or ecstatic jazz influences, this group's music is so scrupulously symmetrical that at times it threatens to become bloodless. Luckily the accomplished ingenuity of alto saxophonist Tapiwa Svosve, bassist Silvan Jeger and drummer Vincent Glanzmann means that the six joint instant compositions are enlivened by textural deviations even as triple coordination keep the tunes on level paths. Working up to an unforeseen group definition on the last track, the trio runs through variants in tempos ranging from adagio to allegro and uses breaks and fragmented patterns to pace brief solos. Svosve projects lower-case breaths and gusty smears with the same facility as Jeger's oscillating strokes, and Glanzmann's clanks and slaps propel the music without strain. Most notable are Mmoosh and Kheretem, the penultimate and concluding tracks. The former is an original concept where disconnected reed stops, echoing drum vibrations and bass string drones define the piece without much ambulatory motion. Likewise avoiding any faux-exoticism in their use, the three players clap and shake bells to introduce Kheretem, then employ these metallic resonations along with pinpointed ruffs, cymbal clashing and string slaps to confirm the exposition as the saxophonist decorates its evolution with continuously ascending reed arabesques.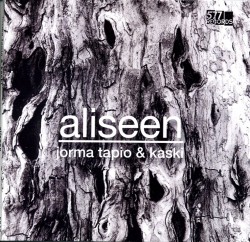 Another unique take on this configuration is on Aliseen (577 Records 5846 577records.com) which mixes improvised jazz iterations with currents of traditional Finnish folk sounds. That means multi-reedist Jorma Tapio & his Kaski band of bassist Ville Rauhala and percussionist Janne Tuomi astutely manoeuvre among idioms. While a track like Nukunuku is the most overtly folksy, with low-pitched wooden flute puffs evolving over biting string drones, the preceding Way Off is closest to free jazz, with continuous snarling glossolalia and split-tone screams from Tapio's tenor saxophone, the performances are separate enough so sonic schizophrenia doesn't result. In fact the concluding title tune, which makes extensive use of string buzzes from kanteles or Finnish zithers played by the saxist and drummer in tandem with bass strokes, mostly serves as an idiosyncratic confirmation of the trio's Nordic identity. Besides that though, emphasis is on contemporary improvisation. Rauhala's subtly expressive plucks are upfront on a couple of tracks and Tuomi's pinpointed cymbal clatter and hi-hat pulses join him on Siltasalmi. As for Tapio, playing flute on She's Back, he produces Herbie Mann-like shrills with funky echoes and the same facility that his slashing alto saxophone cries suggest Ornette Coleman on a track with the ethnic title of Lasten Juhlat.
No matter which woodwind is used alongside the bass and percussion on these discs, invention and originality are projected from each.