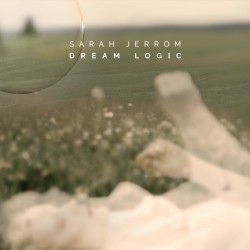 Dream Logic
Sarah Jerrom
Three Pines Records TPR-002 (sarahjerrom.com)
With the release of her latest recording, Sarah Jerrom has reminded us that she is one of the most interesting, talented and creative vocalist/composers on the scene today. All of the 13 compositions on the CD were written by Jerrom, except for two (Illusions and Plastic Stuff) by ensemble member and gifted guitarist, Harley Card. Jerrom is also featured on piano and, in addition to Card, is joined by the uber-skilled Rob McBride on bass, Jeff Luciani on drums/percussion and Joe Lipinski (who also co-produced and engineered this project brilliantly) on acoustic guitar/vocals.
The opening salvo, Snowblind, has a silky, languid opening, featuring Jerrom's pitch-perfect, clear tone – reminiscent of the great Jackie Cain or Norma Winstone. Cleverly arranged group vocals join in, followed by Card holding forth on an exquisite solo, rife with emotional and musical colours. An intriguing inclusion is Accolade Parade. Percussive and noir-ish, it deftly explores the desire for recognition – earned or not – and Jerrom shows herself to be a fine pianist on this harmonically dazzling tune. She also displays her vocal and compositional versatility on this well-written track. All is punctuated by the fine work of McBride and Luciani, who drives the ensemble down the pike with pumpitude to spare.
A highlight of the recording is the poetic, sultry, diatonic Fata Morgana. Again Jerrom dons another vocal guise with the deft use of her warm, lower register and her fine time feel. Card – this time on electric guitar – adopts a free, Bill Frisell-ish motif, set against the throbbing percussion of Luciani and the dynamic, soul-stirring bass of McBride. Another standout is Fergus – an unselfconscious, swinging, bittersweet love song – elegant in its simplicity and mysterious in its meaning.