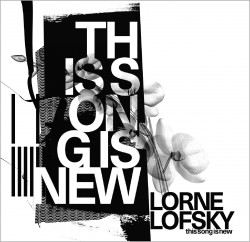 This Song Is New
Lorne Lofsky
Modica Music (modicamusic.com)
The late Ed Bickert set the model: Toronto's most distinguished jazz guitarists tend to be self-effacing, blending in, enhancing the music of which they're a part, rarely assuming the foreground. It's certainly true of Lorne Lofsky (and Reg Schwager, for another). Lofsky spent eight years co-leading a quartet with Bickert and a few years in Oscar Peterson's quartet, but his last recording under his own name was Bill, Please, released in 1994, before his term with Peterson.
This Song Is New presents Lofsky in a quartet with longtime associates playing five of his compositions, as well as two modern jazz standards that establish his frame of reference. The opening Seven Steps to Heaven, associated with its co-composer Miles Davis, suggests Lofsky's biases: his strongest associations are with the subtle explorations, harmonic and melodic, of musicians like Bill Evans and Jim Hall, articulated with a beautifully even, glassy electric guitar sound. It's even more pointed on his own compositions, like the ballad The Time Being, on which tenor saxophonist Kirk MacDonald finds a lightly metallic sound that perfectly embraces the melody. The bouncy Live from the Apollo has an extended trio segment in which Lofsky, bassist Kieran Overs and drummer Barry Romberg develop an intimate three-way dialogue, while the title track encapsulates the delicately nuanced nocturne of which Lofsky is a master.
At its best, it's music to savour. One hopes Lofsky doesn't wait 27 years to release another recording.