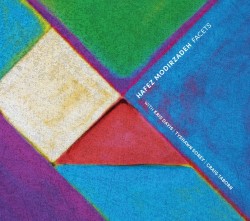 Facets
Hafez Modirzadeh
Pi Recordings (pirecordings.com)
Hafez Modirzadeh, an American composer and saxophonist, has a musical vision he calls "chromodal" merging modal Persian music and the harmonic language of jazz as embodied in the work of John Coltrane and Thelonious Monk. Here he's created a series of pieces, Facets, combining his own and others' works, in which eight of the piano's keys have been lowered in specific pitch values, creating an available series of microtones and radically altering the piano's resonance.
The 18 pieces heard here have been divided equally among three pianists who readily blur composed and improvised musics: Kris Davis, Tyshawn Sorey and Craig Taborn. Modirzadeh joins in on tenor saxophone on ten pieces. No description can account for the numerous variations in approach or the strangely playful eeriness and structured refractions that arise. Facet 33 Tides achieves a strange, limpid and previously unknown, watery beauty. Facet 34 Defracted has Davis improvising on two Monk compositions, Ask Me Now and Pannonica, each performed later by the duo of Modirzadeh and Taborn. Facet 39 Mato Paho is a superb reverie by Modirzadeh and Sorey in which the strange colouring of pitches transforms the initial mood, while Davis makes Facet 31 Woke an epic of transforming approaches. In Facet 32 Black Pearl, Modirzadeh creates a variation on Bach's Goldberg Variation No.25.
As novel as this wedding of cultures might seem, there's real substance here, combining rich and related inheritances in ways that underline distinctions and highlight concordances.