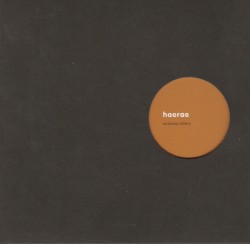 Haerae
Andreas Willers
Evil Rabbit Records ERR 31 (evilrabbitrecords.eu)
As the COVID-19 lockdown settled in spring 2020, German guitarist Andreas Willers began a solo recording, the same kind of project with which he had debuted 40 years earlier. He's playing two steel-string acoustic flat top guitars here, usually one at a time, though there are pieces when there may be two involved, and he's playing them in a number of ways, whether traditional or employing extended techniques.
Willers clearly loves the guitar as an instrument, exploring its nooks and crannies and the myriad sounds they harbour, many the kinds usually avoided: the metallic slap of detuned lower strings against the fretboard; likely the rustle of a plastic bag covering the picking hand; strings scratched longitudinally with fingernails or maybe rubbed with a moistened thumb; some hard material with some weight, probably plastic, dropped on the strings of a horizontal instrument. None of these things appear in isolation but arise in making spontaneous music, each piece developing a rich, varied life of its own in which evolving timbres and events create a sonorous whole. Sometimes he plays guitar in a conventional way, as in the three movements of langh's arm 6-8 which abound in brilliantly articulated runs, dense chordal passages and singing, reverberant highs; there are dashes of blues, flamenco and slide with strange mergings of idioms.
While its likely audience is attuned to free improvisation, there's enough exuberant guitar exploration here to appeal to any adventurous enthusiast of the instrument.