Vegetables
Lina Allemano Four
Lumo Records (linaallemano.com)
Permanent Moving Parts
See Through 4
All-Set! AS014 (seethroughmusic.bandcamp.com)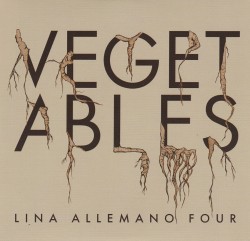 These two CDs, both recorded by jazz quartets in Toronto in winter 2020 at Union Sound Company, both featuring trumpeter Lina Allemano as a lead voice, suggest very different approaches to band formation and conception.
The Lina Allemano Four's Vegetables is the sixth CD by a band that's been together since 2005 without a change in personnel, still made up of alto saxophonist Brodie West, bassist Andrew Downing and drummer Nick Fraser. Allemano's compositions are touchstones, brief but distinctive rhythmic and melodic patterns that shape some of the patterns of development, but the group is tied together by a telepathic understanding of one another's spontaneous processes. On Brussel Sprouts, Maybe Cabbages, it's hard to draw a line between composition and improvisation in West's dancelike repeating figure, even more so when he and Allemano happily land on exactly the same spot. Much of the music is conversational collective improvisation, whether it's West's whispered lyricism, Allemano's exploration of mutating timbres, Downing's spontaneous counter melodies or Fraser's creative rhythmic chatter. Then there are the inspirations. I'm not sure how one might make sonic distinctions between Onions, Champignons and Leafy Greens, but I know all three are organic and their precise forms vary from any one to another, functioning as metaphor for the group's intertwined creative evolution.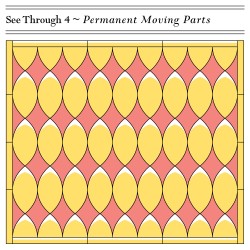 A bassist may be the least conspicuous member of a band, usually the quietest, confined to a fundamental role, and often the last to solo. Bassist-composer Pete Johnston, however, stands out as his See Through 4's one consistent element. Last year, the quartet – all first-rank Toronto musicians – released False Ghosts, Minor Fears. A year later, there's another CD, but the other members have changed; while roles remain the same, the lead instruments have changed too. The place accorded saxophonist Karen Ng now belongs to trumpeter Lina Allemano; the chordal element is no longer Marilyn Lerner's piano but Michael Davidson's vibraphone; drummer Jake Oelrichs replaces Nick Fraser. There's little change in quality, but there's a completely different collective sound, with trumpet and vibraphone bringing a brighter sonority, even a certain brashness.
Those "permanent moving parts" are also the building blocks of Johnston's evocative compositions. True to its title, Weathering Teenage Hopes is a study in evolution, Allemano's melancholy trumpet initially accompanied by Johnston's empathetic bass alone; Davidson eventually enters, the vibraphone's bell-like brightness carrying the piece and the band to a certain comfortable groove, which continues right down to Allemano's ebullient bursts and wandering, scintillating lines. Other pieces may eschew such narrative development, but Johnston's compositions seem knitted from experience, expressing ambiguous states of mind, here conveniently named, whether it's Everything Happens Once, Possible Daylight Dreams or the tone painting of Imperfect Sunlit Room. Allemano, Davidson and Oelrichs are here to provide colour, bringing each piece to life, but the forms and their patterns of development are definitely Johnston's department.