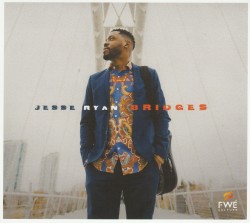 Bridges
Jesse Ryan
FWE Culture (jesseryanmuzik.com)
People call upon music for a multitude of reasons. Those reasons can take the form of motivation, social fulfillment, spirituality, intellectual stimulation and/or therapy. Trinidadian-born Toronto saxophonist Jesse Ryan's debut recording as a leader can serve all of these purposes. As far as I'm concerned, music doesn't get much more mood-enhancing than this. First and foremost, Ryan's compositions are consistently melodious, meticulous and memorable. Perhaps too consistently, as singling out a highlight has proven to be a difficult undertaking.
The music is never challenging per se, but Ryan shows an incredible range as a writer and evokes a variety of moods throughout. Each track is well thought out, and the amount of labour that went into the arranging is quite evident. The unison lines written for the rhythm section are a great touch, as they provide each passage with an extra layer of vitality. Overall, I find that the rhythm section is the main driving force behind what makes this music so mesmerizing. There are three guitarists on the record, each with distinct musical personalities that complement Ryan's sound perfectly, in different ways. Vocalist Joanna Majoko also shines, especially her harmonizations on Zambian Offertory.
Ryan's debut features an incredible roster, showcases his ingenious approach to songwriting and is profoundly enjoyable. It is everything a debut should be.