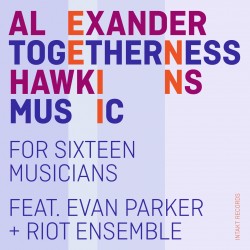 Togetherness Music For 16 Musicians
Alexander Hawkins
Intakt CD361 (intaktrec.ch)
A six-part work composed by British pianist Alexander Hawkins, Togetherness Music synthesizes multiple methodologies, from free improvisation to orchestral composition, with Aaron Holloway-Nahum conducting an ensemble that includes the string quintet Riot Ensemble, several improvising soloists of note and a further assortment of strings, winds, percussion and electronics. A distinguished improviser himself, Hawkins appreciates the distinct qualities of his soloists, sometimes matching complex, varied improvisations against clarifying structural elements.
The opening movement, Indistinguishable from Magic, begins with one of Evan Parker's spectacular soprano saxophone solos, combining circular breathing with multiphonics to suggest a flock of birds in a dome. He's eventually joined by a cluster of electronics and strings that gradually ascend in pitch, creating tremendous tension. Sea No Shore foregrounds the varied timbres and attacks of percussionist Mark Sanders and trumpeter Percy Pursglove with a series of brief and melodic string figures that later reappear fully developed in Ensemble Equals Together. Hawkins wittily plays with expectations in Leaving the Classroom of a Beloved Teacher, setting his own kinetic piano improvisation against a wobbling "walking bass" with uneven rhythms and spontaneously determined pitches played by the Riot Ensemble with additional bass and cello. The composed materials of Ensemble Equals Together return in the concluding segment, layered with improvisations.
Compositions melding diffuse methodologies are increasingly common, but Hawkins' effort is a fully realized work, a celebration of possibilities by a musician versed in diverse musical dialects who is finding new ground in the mix.