Despite the growth of computer and Internet-related sound production, the guitar in all its manifestations arguably remains the world's most popular instrument. But its universal appeal also creates almost boundless opportunities to use the six-string instrument in unique ways. This is especially true when it comes to creating alongside other players, most frequently in jazz and improvised music, as these sessions demonstrate.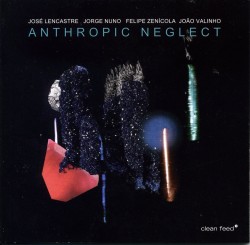 The most straightforward application of the electric guitar as a sound-colouring agent occurs with the improvisation on the Lisbon-recorded Anthropic Neglect (Clean Feed CF 551 CD cleanfeedrecords.com) where Jorge Nuno adds his psychedelic, contorted string motifs to what otherwise would be extrapolated jazz-like instigations from saxophonist José Lencastre, electric bassist Felipe Zenícola and drummer João Valinho. The result is a program midway between free and fusion. Prime instance of this synthesis is on the concluding Concept 3 where the saxophonist's high-pitched horizontal exposition is interrupted by jagged string stabs and buzzing frails from the guitarist. Backed by bass thumps and cymbal echoes, Nuno's and Lencastre's output moves in and out of aural focus with jet-plane-barrier-breaking flanges, pressurized strums abut snake-charmer-like reed trills and split tone variables before reaching a final confluence. This arrangement is broached on earlier tracks as the guitarist's flying jet plane-like noises frequently interrupt irregularly vibrated reed bleats or hulking saxophone multiphonics which swirl, echo and vibrate against guitar frails and fills. Finally loosened, arena-rock-like note shredding from Nuno reaches a climax alongside shaking altissimo spews from Lencastre. Still the expansion into multi-timbres during singular solos signals that this is a head-expanding not head-banging meeting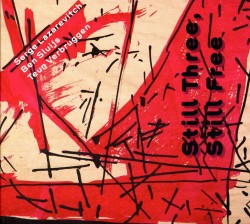 Coming from another angle is a trio made up of French guitarist Serge Lazarevitch plus Belgians, drummer Teun Verbruggen and saxophonist/flutist Ben Sluijs on Still Three, Still Free (Rat Records Rat 046 teunverbruggen.bandcamp.com). It balances on the thin lines separating pop, jazz and even notated music, with interpretation of themes by Thelonious Monk, Ornette Coleman, François Couperin and György Ligeti mixed with light swing originals, either composed by Lazarevitch or group improvisations. Although all three have experience in big band, combo and even rock-designated projects, the CD's 12 tracks are probably lighter than they imagined. Unlike Nuno, Lazarevitch, at least here, is a finger-styled guitarist whose pacing owes more to Jim Hall than Jimi Hendrix. Overall the most rhythmically moving tracks are Monk's Evidence and Coleman's Law Years, with the first a jumping foot tapper amplified with low-pitched string strums, hurried drums pops and slippery saxophone vibrations that extend to a slowed-down ending. Law Years maintains its blues bass through multiple variations contrasting the guitarist's supple fingers and the saxophonist's heavier slurs. Meanwhile, the bows toward concert music are given unique arrangements; Couperin's Les Baricades Misterieuses becomes an exercise in folksy smoothness, not unlike the other brief tone poems on the disc, while Lazarevitch's homage to Ligeti, Georgy on My Mind (sic) is most notable for how the crackle of Verbruggen's electronics makes a languid connection with the simple theme expansion from saxophone and guitar. The other originals are most notable for how Verbruggen tempers his usual rock-like energy to fit in with the guitarist's more delicate comping that atmospherically expands and contracts riffs. The three turn Lazarevitch's It Should Have Been a Normal Day into a gracious bossa nova whose lilt comes as much from the saxist's logical and light blowing as the expansive string patterning. Even when the trio touches on atonality, as on the improvised Empty Space, rim clanks and reed squeaks are secondary to guitar plinks, with the piece ending as a call-and-response connection between strings and reed.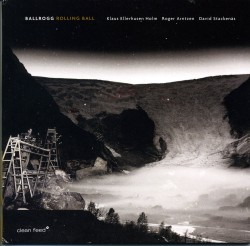 In another variation on comprehensive sound additions, Swede David Stackenäs gives the Ballrogg trio a new sound when he adds folk-traditional variations to the already Arcadian sounds of Norwegians, clarinetist Klaus Ellerhusen Holm's and bassist Roger Arntzen's duo on Rolling Ball (Clean Feed CF 558 CD cleanfeedrecords.com). Working with an introspective interface, Arntzen's fluid pulse is the secret weapon here giving the selections enough understated oomph so that Holm's and Stackenäs' sometime harmonized and sometime singular motifs become neither overly rhythmic double-bass pumps. Even more bracing, Stackenäs meets up with equivalent allegro flutter-tonguing from Holm's reed refractions.
One deciding test of a guitarist's adaptability as a responsive improviser is when he or she goes one on one with another instrumentalist. This is especially true for Swiss guitarist Florian Stoffner on Tetratne (ezz-thetics 1026 hathut.com) where his six-strings and amplifier are matched against the drum set, cymbals and gongs of German percussionist Paul Lovens, who was working alongside free music mavens like Evan Parker and Stoffner was born. Luckily this in-the-moment live session, captured exactly as it evolved, is simpatico. During the brief four-part dialogue the guitarist concentrates on spiky twangs and metallic clangs, created by taps or hand pressure on the strings and often strumming below the bridge or high up on the neck. Making full use of unattached cymbals and gongs, tonal springiness adds an energetic dimension to Lovens' drumming. At the same time he counters harsh string frails with shirring ratchets and occasionally, as on the third section, turns from his evolving pulse to challenge Stoffner's emphasized fingering with a solid bass drum plop. Circling one another with emphasized tones during these improvisations, the two finally settle on a climax of affiliated rumbles and bumps from Lovens and folksy frails and picking from Stoffner.
A novel challenge faced by an improvising guitarist is when the pulsations and resonations are generated electronically, which is what transpires on Pavilion (Unsounds 65U CD unsounds.com). Created in a studio/pavilion that was part of the Venice Art Biennale, British guitarist Andy Moor and his longtime musical associate, Cypriot composer Yannis Kyriakides, using computers and a collection of synthesizers, incorporate spatial dimensions and (luckily silent) input from the crowds moving in and out of the pavilion as they play. Self-contained during six selections, the two concentrate on contrapuntal motifs suggested by synthesizer hisses, pseudo-percussion whacks and bell-ringing timbres to colour the duet as Moor's solid frails and jiggling plinks sound out straight-ahead expositions. On Camera, the first track, the exposition threatens to become Secret Agent Man at any moment. While there are hints of rock-like flanges and accompanying strums from the guitarist elsewhere, the collective patterns and rebounds follow synthesized refractions, whistling and shaking for sequencing, but not songs. Challenges set up when electronically processed snorting flatulence and stretched guitar twangs are heard on a track like Dedalo are resolved when both sounds are subsumed by signal-processed gonging. A similar confrontation on Concha – when multiple keyboard clanks and crackles underlie darkened descending string strums – is resolved as widely spaced whooshes take over the sound field.
It would appear that as long as guitars are manufactured and come into the hands of inventive musicians, the possibilities for innovation can be endless.