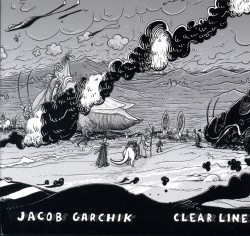 Clear Line
Jacob Garchik
Yestereve Records 06 (jacobgarchik.com)
Drawing on big band jazz section work, European village marching bands and notated music for winds, composer/conductor Jacob Garchik has composed nine POMO interludes for four trumpets, four trombones and five saxophones. Eschewing a rhythm section and string sweetening, he endows the compositions with coordinated horn work for rhythmic impetus and savory harmonies, while leaving space for creative soloing.
At the same time, with blustery brass and popping reeds often emphasized to create contrapuntal backing, individual features are short but to the point. Besides brief mood-setting sequences, extended tracks highlight different strategies from fusion-referencing brassy horn expositions to others that add enough saxophone overblowing to suggest tremolo airs from a collection of Scottish bagpipes. Moebius and Mucha is the most overt swinger with bugle-bright trumpet work cutting across sliding connections from the other horns. Meanwhile, Sixth is a quasi-rondo that subverts its mellow form with colourful upward movements that encompass brass and reed call-and-response before textures meld into a stop-time climax.
Garchik draws on the skills of some of New York's top younger talents like saxophonist Anna Webber and Kevin Sun and trumpeters Jonathan Finlayson and Adam O'Farrill. But with frequently displayed gorgeous harmonies, as highlighted on the concluding Clear Line, this is a suite of well-paced originals that stroll rather than gallop. This is also profound group music that makes its points through subtlety not showiness.