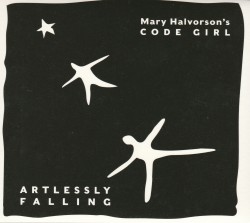 Artlessly Falling
Mary Halvorson's Code Girl
Firehouse 12 Records FH12-04-01-034 (firehouse12records.com)
In recent years, guitarist Mary Halvorson has transitioned from brilliant avant-gardist to a central figure in contemporary jazz. Her first Code Girl CD from 2018 – introducing Amirtha Kidambi singing Halvorson's artful, newly minted songs – contributed to that recognition. The project extends to language the edgy intensity – "Atrophied crucibles, charred Russian dolls" – previously signalled by the funhouse-mirror electronics that light up her guitar playing.
Halvorson has a keen sense of some special traditions. Her lyrics carry on the art song, whether it's adapting the sestina form employed by 12th-century troubadours in the title track or matching avant-jazz to surrealism in Bigger Flames, recalling composer Carla Bley and poet Paul Haines' Escalator over the Hill; she's also convinced a longstanding influence, singer-songwriter Robert Wyatt, to bring his wanly artful voice to three of her songs. There's also an insistent contemporaneity, however unpleasant: the words to Last Minute Smears are phrases from Brett Kavanaugh's 2018 testimony before the U.S. Senate.
Including Halvorson's almost decade-long partnership with bassist Michael Formanek and drummer Tomas Fujiwara, collectively Thumbscrew, Code Girl has all the musical intimacy of a genuine band. It's evident everywhere here but especially in the close tracking and exchanges that Halvorson shares with new band members – trumpeter Adam O'Farrill and saxophonist/vocalist Maria Grand – on A Nearing. When Halvorson unleashes her virtuosity and electronics on Mexican War Streets (Pittsburgh), there are few contemporary performers who can match the urgent complexity and authority of her work.