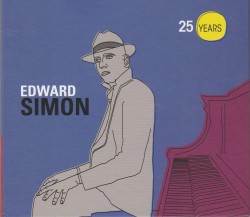 25 Years
Edward Simon
Ridgeway Records RRCD016 (edwardsimon.com/store#!/25-Years)
Edward Simon is one of the most unique and gifted pianists of his generation. Since landing in New York during the late 1980s, he's been extremely prolific and has worked with some of the biggest names in jazz. The singular path he's paved for himself and fellow musicians, mixing traditional jazz and Latin-American music, has garnered him kudos and respect from peers and aficionados. However, due to the lack of publicity under which he tends to operate, a significant portion of his 17-album-strong catalogue remains largely unheralded.
It is the fact that many people will enter this new career retrospective unfamiliar with his body of work that gives the concept so much power. Sure, they'll come for Simon's high-profile collaborators such as Mark Turner, Avishai Cohen and the incomparable Brian Blade, but they'll undoubtedly stay for the bandleader himself. Edward Simon is the complete package. As a composer and arranger, he is not only a soulful melodist and an adept polylinguist, but he also knows how to maximize the potential of the jazz ensemble. The reassuring tranquility he gets out of his trio on the appropriately titled Simplicity works in magnificent contrast to the SFJAZZ Collective's torrential sonic hurricane on the track Venezuela unida. As a player, he manages to be equal parts precise and expressive. His solo on Pere is a particularly devastating display. If, for whatever reason, you aren't aware of Edward Simon's stunning work, now's as good a time as any to familiarize yourself.