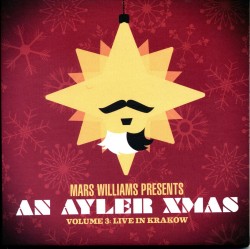 An Ayler Xmas Vol. 3 Live in Krakow
Mars Williams Presents
NotTwo MW 996-2 (nottwo.com)
At first it may appear that pioneering free jazz saxophonist Albert Ayler (1936-1970) and Christmas music have little in common. But especially after noting the devotional titles of most of Ayler's repetitively rhythmic compositions, linkage become clearer. Taking this connection to its (il)logical extreme, Chicago saxophonist Mars Williams melds Ayler lines and familiar holiday ditties together with improvisational solos to create sessions that are as amusing as they are avant garde.
Aided by trumpeter Jamie Branch, drummer Klaus Kugel, bassist Mark Tokar and especially the guitar and electronics of Knox Chandler, Williams comes up with unique sonic pastiches. Linear readings of fare like Jingle Bells and The First Noel, for instance, come in and out of focus while sharing contrapuntal melodies with Ayler's simple hand-clapping tunes. Added are brassy trumpet yelps, altissimo saxophone squeaks and multiphonic honks as well as jiggling and juddering programmed oscillations that seem to come from further out in space than the path of Santa Claus' sleigh.
Not content with only that admixture, the quintet ups the ante on this live December 2018 performance by adding a strain of reggae rhythms underneath the familiar tunes. Live in Krakow is a sui generis disc that's sure to enliven – and puzzle – any holiday gathering with its joyful audacity. Plus where else would you be able to hear a straight recitation of 'Twas the Night before Christmas decorated with baubles of dissonant stop-time whinnies, shakes and honks?